Experiment 6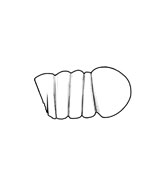 —

Material
a. Soda-lime glass
> colour: clear
b. Carbon fibre
> composition: C,H,N + Al2 O3
> structure: graphene

Dimensions of the final piece
h. 30 cm diam. 12 cm

Objectives
a. Test the use of the carbon fiber with glass.

Process
The carbon fiber was laid on a glass piece being blow by hand.

Results
The carbon fibber comes off the glass piece very easily; difficulty in blowing the piece when the fiber is on it.


—