Experiment 7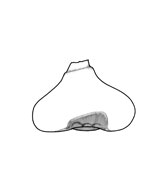 —

Material
a. Soda-lime glass
> colour: clear
b. Polymer prototype
> T glass transition: ~ 1000 °C

Dimensions of the final piece
h. 16 cm l. 25 cm w. 23 cm

Objectives
a. Testing the inclusion of the polymer in glass.

Process
The glass was blown onto the polymer.

Results
Excellent reaction of the polymer to heat; stable dimensions of the polymer before and after heat; no water detonations following thermal shock.


—