Experiment 9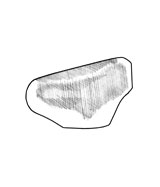 —

Materials
a. Soda-lime glass
> colour: gradient of emerald green and purple
b. Ceramic tissue
> composition: SiO2 + Al2 O3
> structure: trimide, α-alumina
> T max: ~ 1300 °C

Dimensione pezzo finito
h. 25 cm l. 38 cm w. 20 cm

Objectives
a. Create an easily removable mould in textile.
b. Testing the thermal strength of the fabric after several use.

Process
Glass blown into a textile pocket, hold in shape by metal clips.
The piece was cut and sanded.

Results
Easy to take the glass piece out of the tissue mould, good texture and interesting shape.


—